Regular price
$ 29.99 USD
Regular price
Sale price
$ 29.99 USD
Unit price
per
Sale
Sold out
Ingredients

Organic Freeze Dried Acai
Storage Instructions

Store with the lid on tight, in a cool dry pantry, fridge, or freezer.
Share
View full details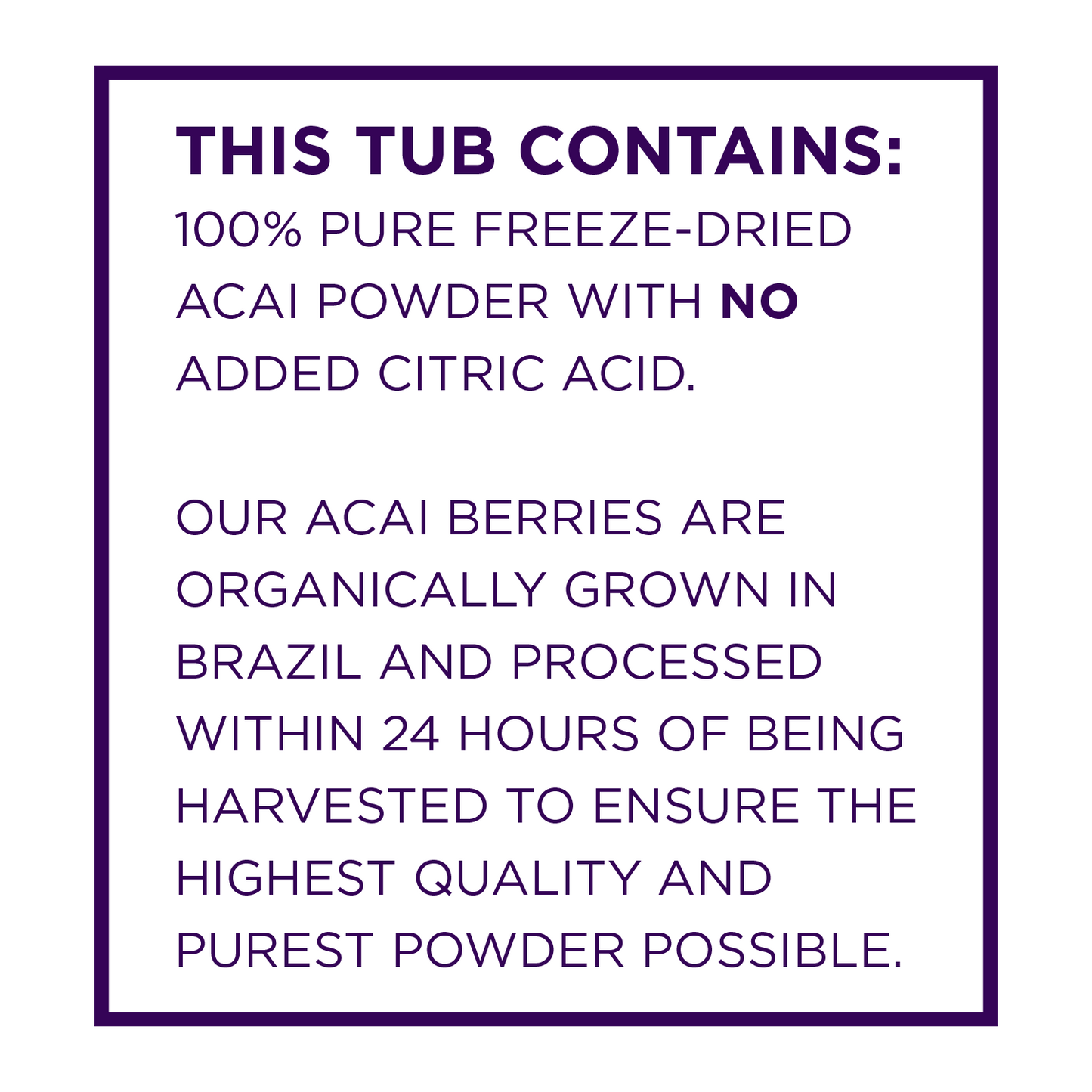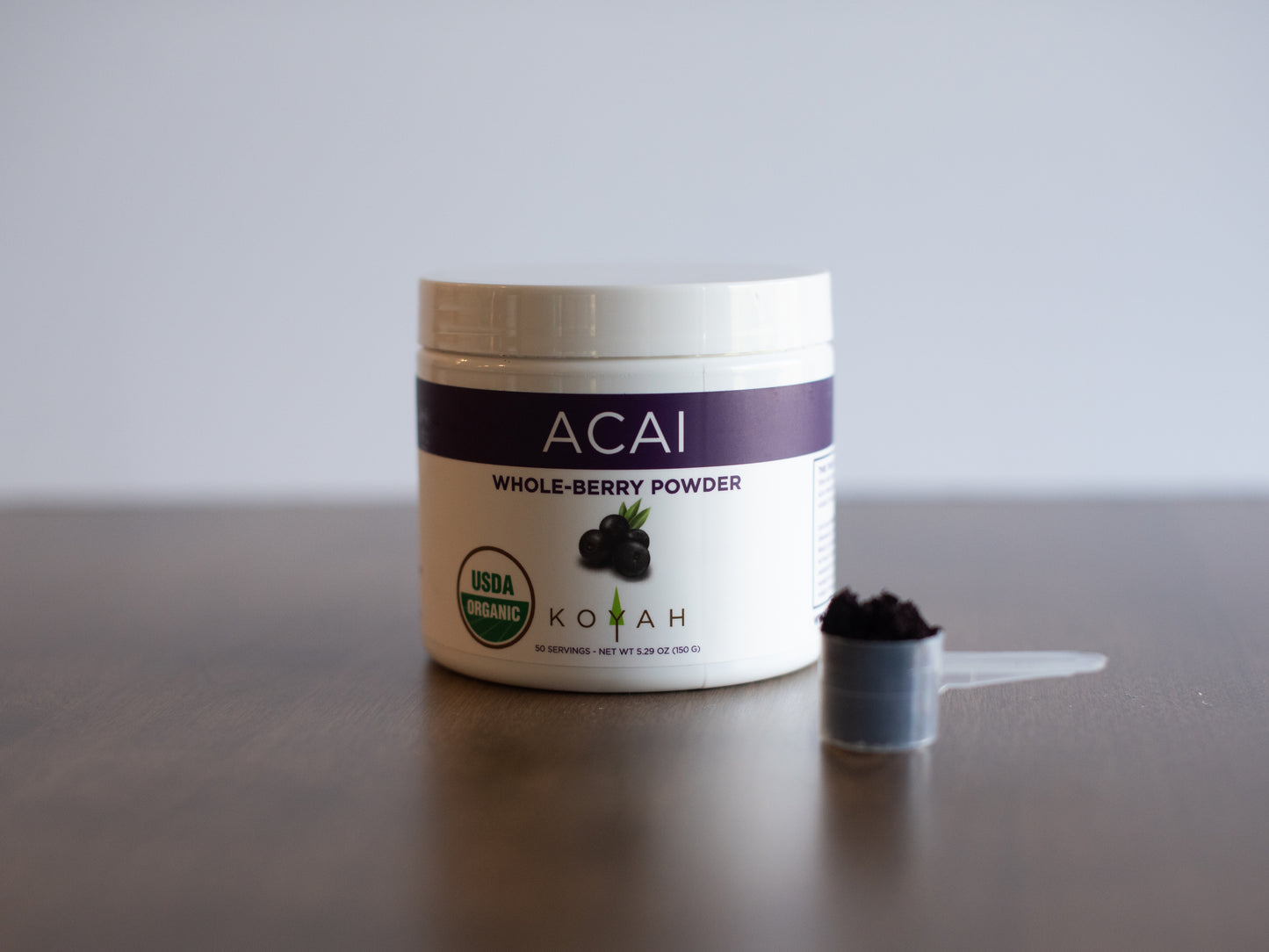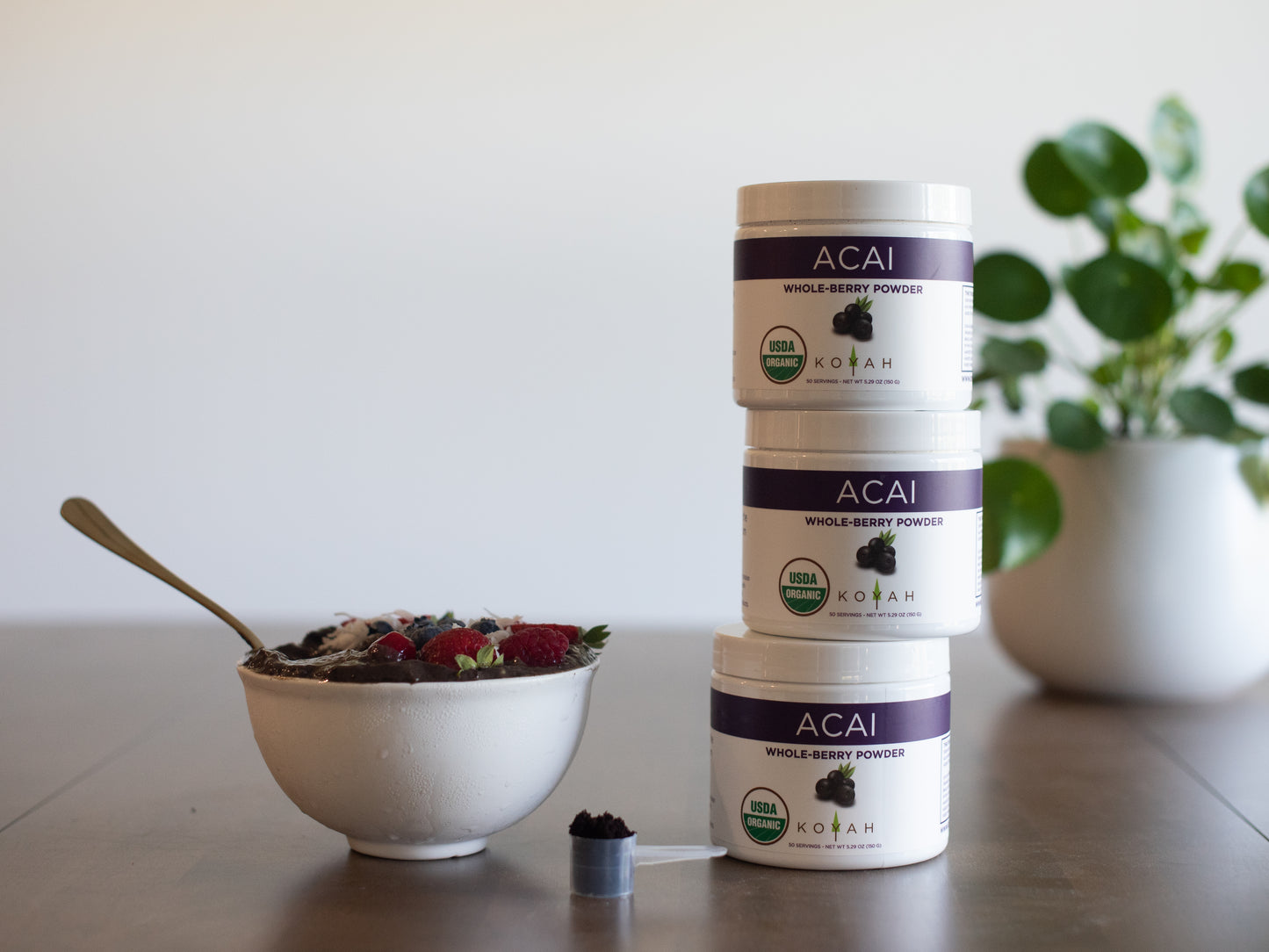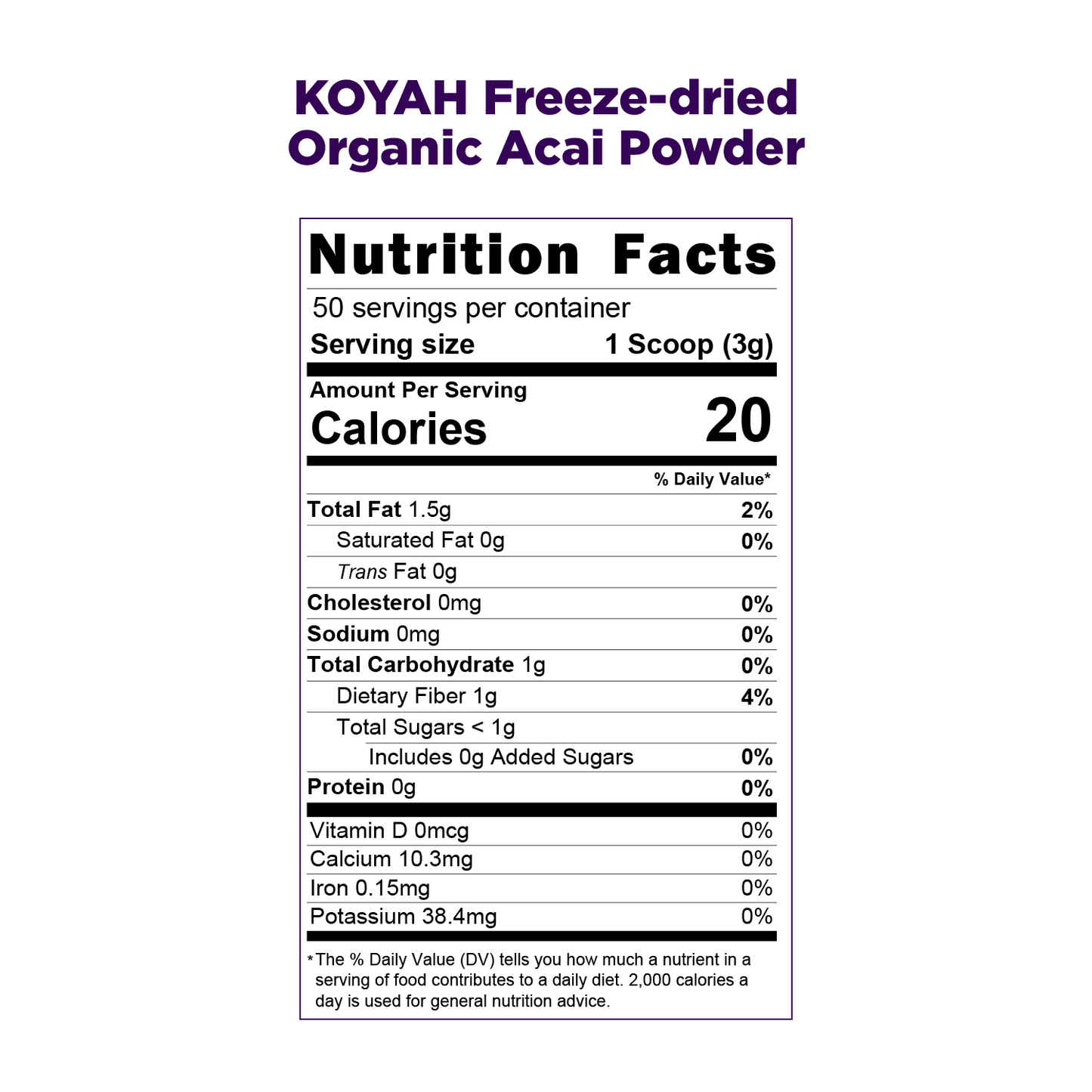 Description:
100% Acai (no citric acid) - Our organic Açaí powder starts out as Brazil grown, fresh, whole acai berries. The berries are harvested, frozen, and then dried via a cold freeze-drying process within 24 hours of being harvested. Since they are processed so quickly there is no need for preservatives such as citric acid. As a final step, they are ground to a fine powder and packaged.
OUR GOAL - We strive to produce the world's highest quality acai powder. Organic, Non-GMO, Gluten-Free, Vegan, Whole-Food. Freeze-dried to retain the cellular structure and maximum amount of nutrition in each organic acai berry.
TASTE - Earthy with a hint of bitterness due to the high levels of anthocyanins that are naturally occurring in acai berries. COLOR - Deep Purple
SIMPLE PROCESS

 

- We start with organic acai berries from Brazil. They are Harvested > Frozen > Freeze-Dried > Powdered
INGREDIENTS

 

- Organic Freeze-dried Acai Powder (nothing else)
EACH JAR 

 

- 50 scoops. Each scoop of powder is 3 grams.
At KOYAH, the trust of our customers is what matters most to us and we are proud to produce products, like our Organic Freeze-Dried Acai Powder, that live up to the absolute highest quality standards and ensures YOU get the most out of what you eat!
LEFT - Competitor's Acai Powder. RIGHT - KOYAH's Organic Freeze-dried Acai Powder.
OUR MISSION - The Worlds Highest Quality Fruit and Vegetable Products
 Tips for evaluating the quality of an acai powder:
Start with the color

 

- An acai berry is made up of approximately 80% seed and 20% fruit. The seed is removed and the fruit portion is freeze-dried to make our powder. The fruit portion is very high in an antioxidant called anthocyanins which gives the powder its deep purple, almost black color. If the powder is lighter in color (like our competitors in the above photo), something has been added to it as a filler. 

Density

 - Acai berries are somewhat unique in that they are very high in oil content. In fact, our powder is over 40% oil. This oil gives the powder a somewhat dense "wet" feel. If the powder is not this consistency, something has been done to remove the oil.
Taste

 

- If you've had an acai bowl, you may think acai is a sweet tasting berry but in fact, it is quite earthy and slightly bitter. The earthy taste comes from the high oil content and the bitter taste comes from the high concentration of anthocyanins in the berry.
Other things to consider

 

- Lastly, when evaluating the quality of a powder it is important to understand how and where the product was grown. Was it grown using Organic farming practices and is it certified USDA Organic? Was it grown in good quality soil or was it grown in highly polluted areas (such as China where heavy metals such as lead can be a major concern). Our acai berries are grown in Brazil and get processed within 24 hours of being harvested. This ensures the powder is as fresh as possible. If the berries are not processed this quickly an ingredient such as citric acid will be added to them to act as a preservative. Always check the ingredient list on your acai powders to see if a preservative has been added. Our powder is 100% pure acai.
Organic

Non-GMO

Vegan

Gluten Free

Nut Free

Soy Free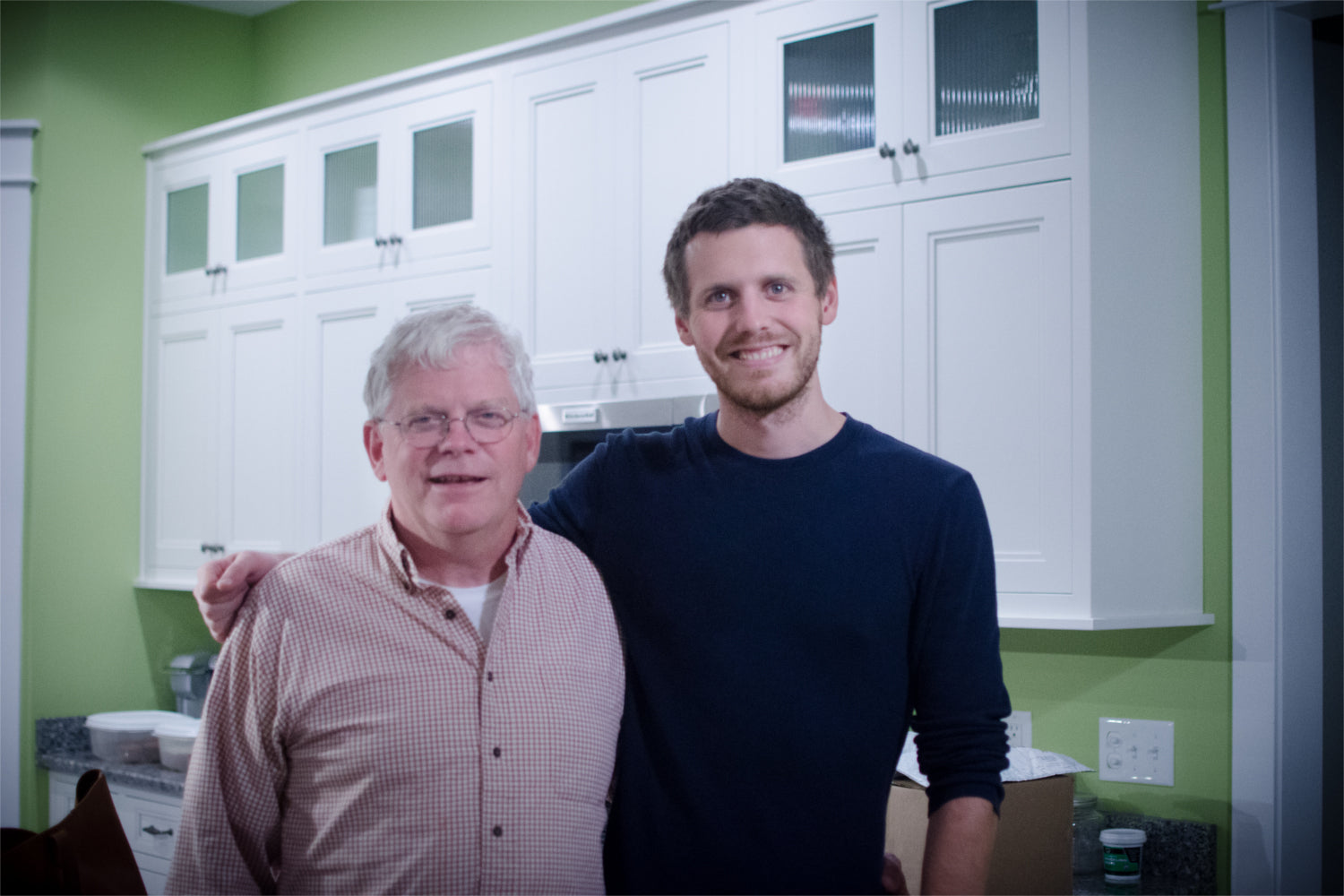 Inspired By My Dad
When my dad was going through chemotherapy and struggling to eat more fruits and veggies, KOYAH was able to help him... and it still helps him today.
Read Our Story
Customer Reviews
02/21/2023
Betsy O.

United States
Rich flavor & easy to use
I have felt with the frozen packs of açaí before and they are hard to blend and messy. I loved using the powder form of Acai much better and felt the flavor was more intense and was easier to blend into things. I also love that I can travel with this as you can't do that with the frozen packs!
Thank you for taking the time to leave us a 5-star review! We love to hear that you find using our Acai powder easier to use than frozen packs of acai. Thank you again!