Regular price
$ 44.99 USD
Regular price
Sale price
$ 44.99 USD
Unit price
per
Sale
Sold out
100% Broccoli Sprout - Our organic broccoli sprout powder starts out as organic broccoli seeds. They are sprouted for 4-7 days then are immediately frozen and dried through a cold freeze-drying process. This process preserves the Glucoraphanin and active Myrosinase enzyme. As the final step, they are ground to a fine powder and packaged.
FAQ's about our Organic Broccoli Sprout Powder
What is the per serving (per scoop) amount in mcg of Sulforaphane, Glucoraphanin, and Glucosinolates?
For the glucoraphanin, our most recent lot tested at 2050 mg / 100 g, which at a 3.4 g serving size, which comes to 69.7 mg of glucoraphanin per serving.
Total Glucosinolates tested 2,910 mg/100 g or 98.94 mg per serving.
The broccoli sprouts vs broccoli powder is that the sprouts are more coarse or grainy. It doesn't "melt" into the liquid as well as the regular broccoli powder so the texture is not as pleasant. Can be ground down better?
The particle size of the powder is actually very similar to our broccoli powder. But with broccoli sprout, the "seed portion" of the sprout is quite fibrous and does not dissolve well in liquids. Which is why it doesn't "melt". Unfortunately, this is just the nature of the broccoli sprout powder.
We recommend letting the powder soak in the water for a few minutes which would allow the powder to fully rehydrate which should make it less "gritty" tasting.
Are products safe to store in the refrigerator or freezer?
The products can be stored in the freezer or fridge after opening. It'll actually help the shelf life of our beet and fruit powders.
Is the Sulforaphane present in the powder?
Glucoraphanin (which is the precursor to Sulforaphane) is present in our powder. The Myrosinase enzyme (which converts the Glucoraphanin to Sulforaphane) is also present in our product and it 3rd party tested to ensure it is active.
How many days do you allow the sprouts to grow before freeze-drying them?
They are sprouted until the cell wall cracks (typically 4-7 days) and are then freeze-dried to lock in the maximum amount of nutrients possible (including the active myrosinase enzyme and the glucoraphanin). Once dried they are ground into a powder. It is then packaged and tested as a final step. In addition to our standard safety testing which includes microbiological and heavy metal testing, we also test each batch for glucoraphanin content and myrosinase to ensure the enzyme is active and ready to convert that glucoraphanin to sulforaphane once you eat it.
How many mg of Sulforaphane would you estimate are in a tsp of your powder?
We just test the amount of glucoraphanin and the amount of active myrosinase because that is what exists in the raw sprouts.
Ingredients

Organic Freeze Dried Broccoli Sprout
Storage Instructions

Store with the lid on tight, in a cool dry pantry, fridge, or freezer.
Share
View full details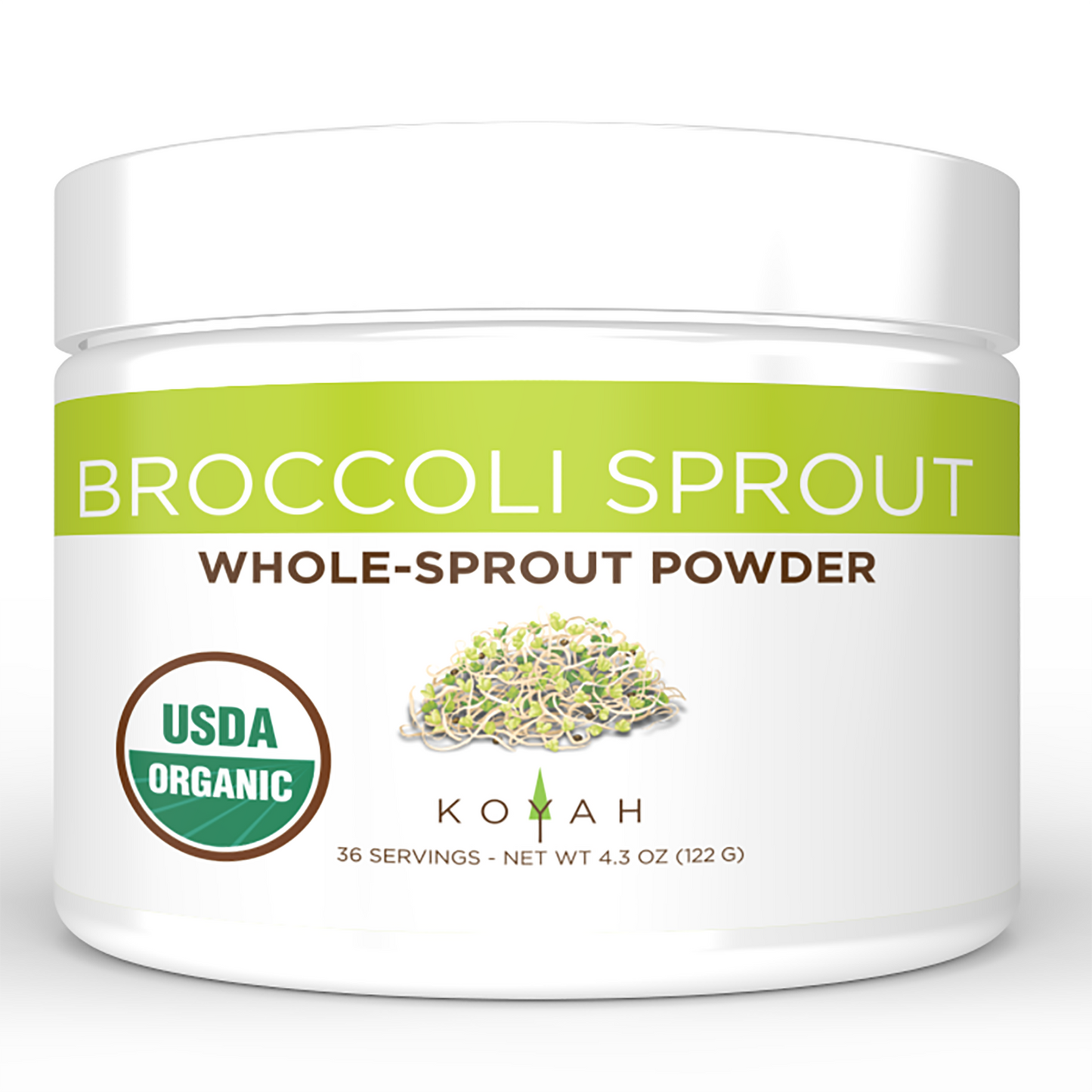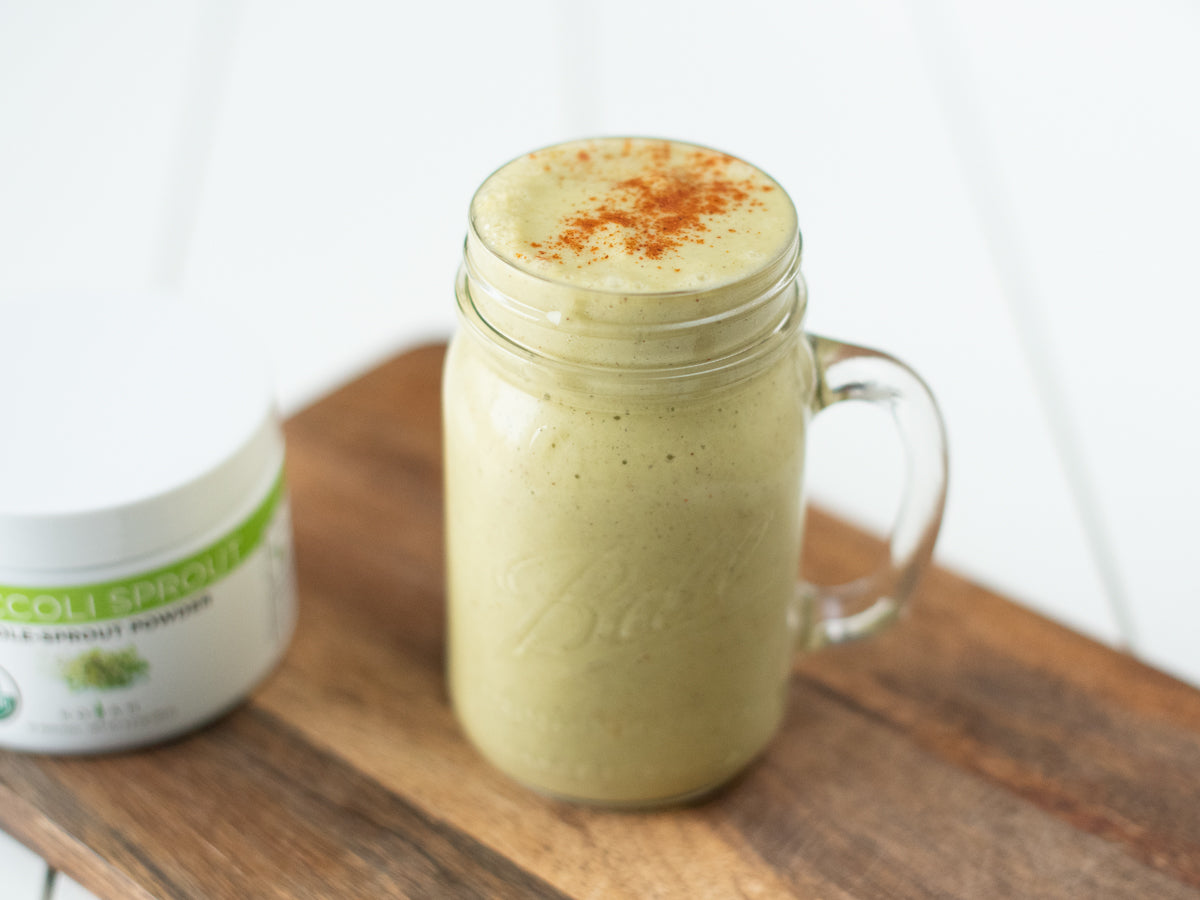 At KOYAH, the trust of our customers is what matters most to us and we are proud to produce products, like our Organic Freeze-Dried Broccoli Sprout Powder, that live up to the absolute highest quality standards and ensures YOU get the most out of what you eat! 
Tips for evaluating Broccoli Sprout Powder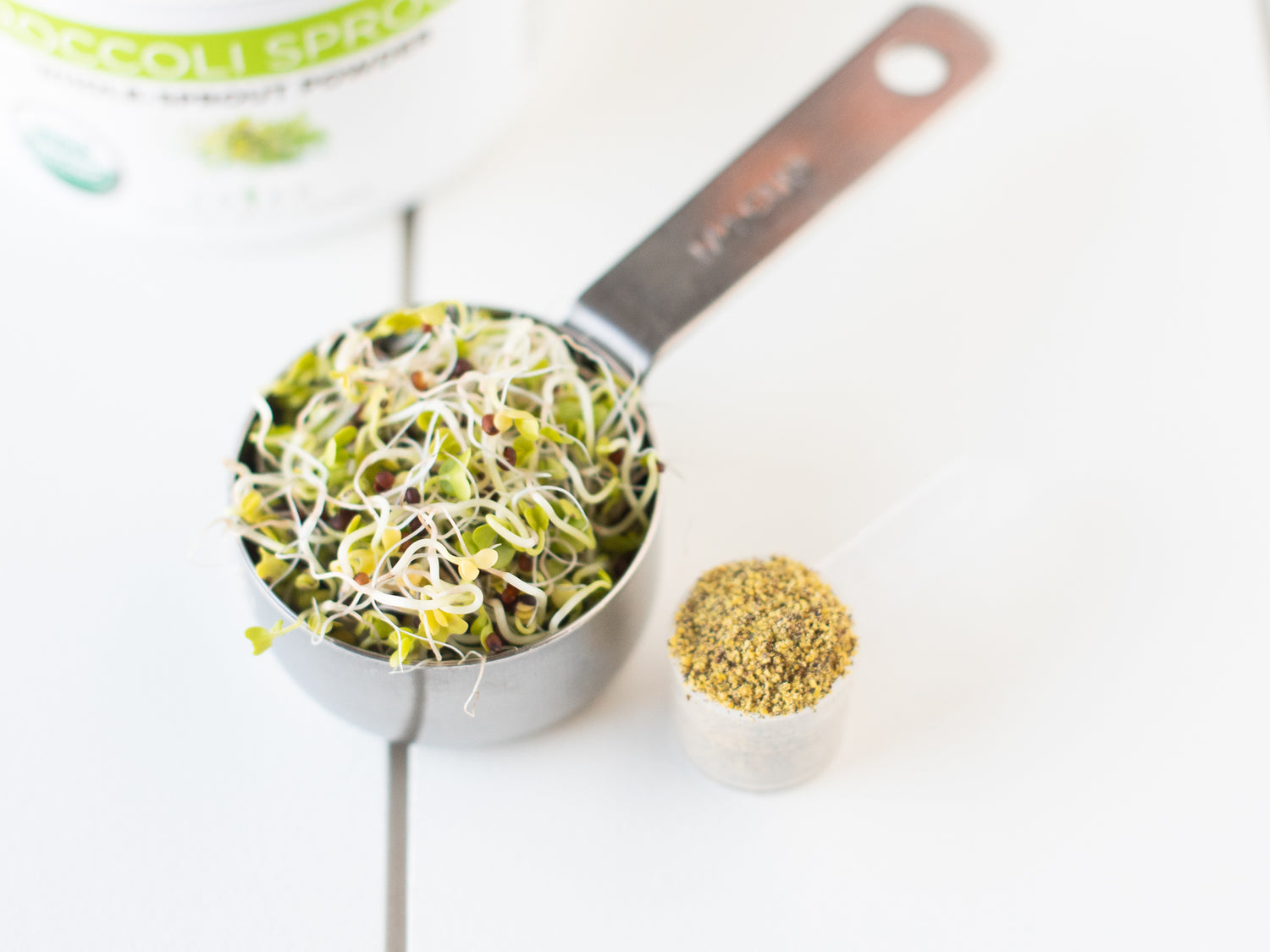 Organic

Non-GMO

Vegan

Gluten Free

Nut Free

Soy Free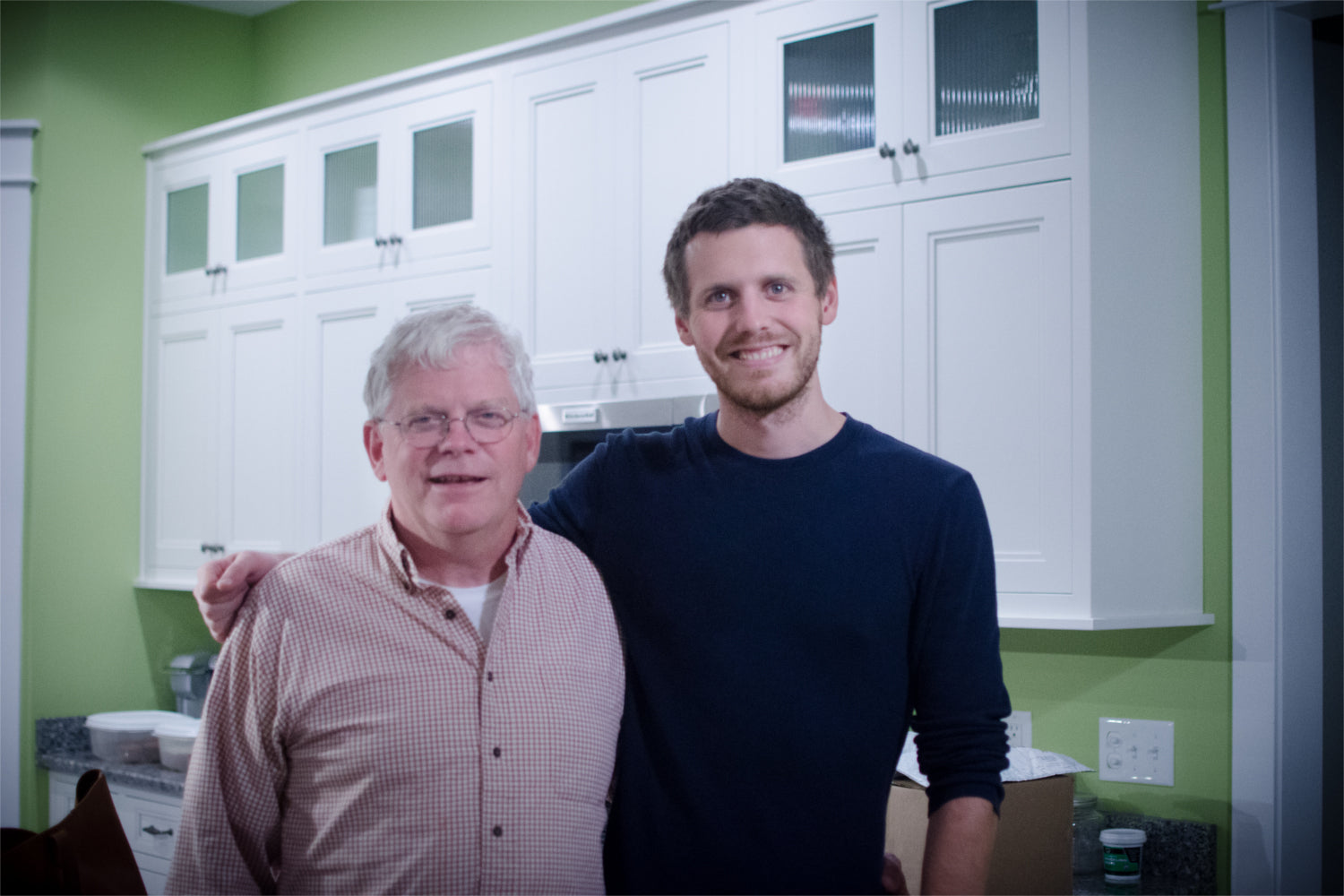 Inspired By My Dad
When my dad was going through chemotherapy and struggling to eat more fruits and veggies, KOYAH was able to help him... and it still helps him today.
Read Our Story